Premises and land for rent

Skyparc: Strasbourg Airport business park
Located 10 minutes south-west of Strasbourg, Skyparc is ideally positioned in a fast-growing area and benefits from a complete and efficient multimodal service.
Direct access via the A35 motorway
Project to connect to the Strasbourg West bypass
Direct connection to Germany via the Rocade Sud
9 minutes from Strasbourg by train via the Airport station
National and international flights from the Airport
Thanks to a land reserve of more than 45 hectares, the offer is developing considerably. Several sites are available for logistics, tertiary, aero-industrial and commercial activities, and new technologies such as a photovoltaic plant.
Are you interested in relocating to the SKYPARC? Come and tell us about it!
Contact :
Caroline MARY-WALTER
Tél : +33 3 88 64 67 85
c.mary-walter@strasbourg.aeroport.fr
If you are a property professional, contact us to set up a non-exclusive sales mandate.
Contact :
Adeline MOREAU
Tél : + 33 3 88 64 69 71
immobilier@strasbourg.aeroport.fr
Premises for rent
Skyparc premises for rent
New offices building
Building of 2 floors of 1200sqm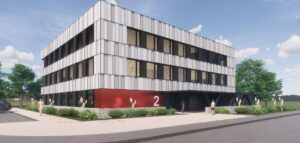 Availability:
Ground floor Lot A: 203 sqm
Ground floor Lot B: 223 sqm
Possibility to rent the full area: 426 m².
Freight terminal  (8000 sqm)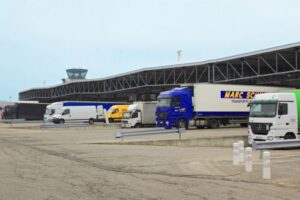 This building consists of several warehouses between 850 m² and 1400 m² heated and a few storage boxes.
Characteristics :
– 17 levelling docks
– Wide loading ramps
– Skydome lighting and industrial luminaires
– Concrete floor
– Useful height: 5 m
– 4 m high sectional doors and high-speed doors
– Offices in some warehouses
– Fire safety: RIA, smoke detectors
– Shared sanitary facilities and shower
– HGV parking for waiting
– Dedicated staff car park
– Dedicated parking for visitors
Office building
The Skyparc has several office buildings of 2 or 3 levels composed of different surfaces and common sanitary facilities.
Louis Blériot building

R+1 building composed of 2 wingsSurface area divisible from 11m² depending on the configurationCollective charges: heating, electricity, water, cleaning of common areas and maintenance of the surroundingsParking not included
St Exupéry building

Building in R+2 composed of 2 wingsSurface area divisible from 15 m² depending on the configurationA wing adapted for people with reduced mobility: access ramp and liftCoffee machine area and vending machine for drinks and sweetsParking not included
Several buildings offer storage or activity areas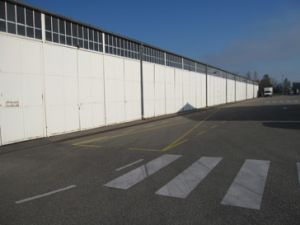 Airport terminal premises
The airport terminal can offer various types of premises: offices, cloakrooms, desks, back offices, retail outlets, etc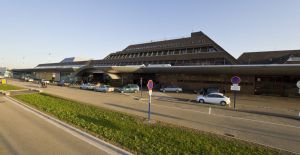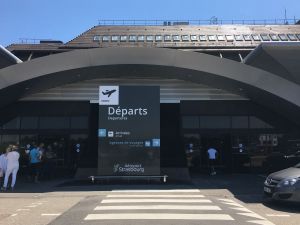 Secondary accomodation
Reserved for personnel working on the airport platform.
Unfurnished rooms between 16 and 22 m² close to the terminal.
Rent from €199/month to €335/month, including heating, water and electricity.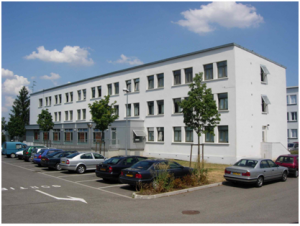 PDF CAHIER DES CLAUSES ET CONDITIONS GENERALES D'OCCUPATION TEMPORAIRE ET D'UTILISATION DU DOMAINE PUBLIC DELIVREES SUR L'AERODROME DE STRASBOURG – ENTZHEIM
Last update 27/07/2023