Car park
Attention: the P3 car park will be closed for works from the evening of 13 March to 14 April included. It is strictly forbidden to park on the P3 during this period or even to collect a vehicle.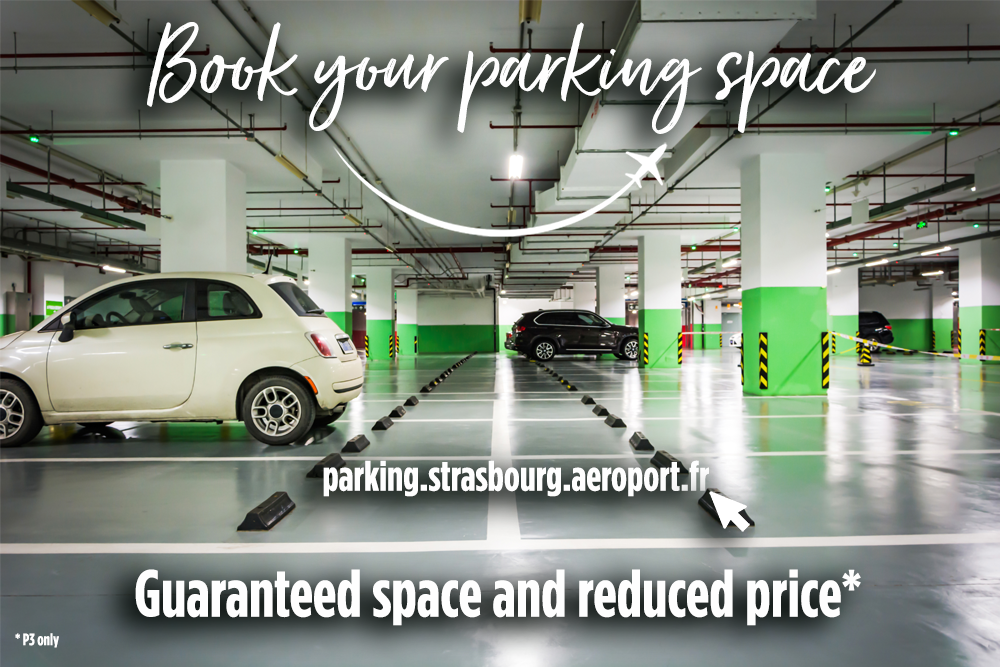 Possibility of reserving a parking space for a minimum of 48 hours
Maximum height of vehicles: 2 meters except on the P5
A choice of 5 car parks
HAVE YOU COME TO VISIT A TRAVEL AGENCY AT THE AIRPORT?
Park in the designated car park for customers of the Espace Agences de Voyages and enjoy 2 hours free parking!
(free ticket provided by travel agency)
CYCLISTS AND MOTORCYCLISTS
8 free parking spaces are available at the entrance to car park P1.
PAYMENT
9 payments points are available in the terminal and car parks:
3 automatic pay stations in the terminal.
2 automatic pay stations on level -1 of P3.
1 automatic pay station in P1.
2 automatic pay stations in P4.
1 counter in the terminal.
Payment by credit card directly at the exit.
TERMINALS FOR ELECTRIC CARS
New at the airport!
Now, electric and hybrid vehicles can recharge their batteries in the P2 car park at the airport!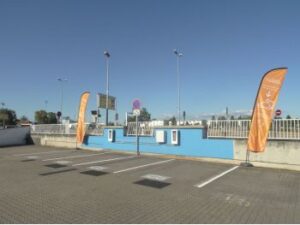 4 places are available at Strasbourg airport to charge your electric car! Find their status in real time at http://freshmilecharge.com
The terminals are accessible with or without registration and offer a wide variety of means of access: badge and mobile application Freshmile Charge, QR code, web browser on phone and tablet. A hotline is available from Monday to Sunday from 7am to 10pm.
ASSISTANCE FOR PERSONS WITH REDUCED MOBILITY
If you require assistance with special-needs or disability access:
Identify yourself at the car parks upon arrival (use the call-button at the pay station).
The attending agent will indicate at which parking space he shall meet you.
Assistance is available for getting out of your vehicle and for transporting luggage to the check-in counter.
If someone is accompanying you, the agent will indicate the most appropriate way for you to access the check-in counter.
SUBSCRIPTION
Subscription P2, P3:
125 € tax included / Month
340 € tax included / Quarter
1250 € tax included / Year
Subscription information: +33 3 88 64 67 87
INFORMATION
Car park information: +33 3 88 64 69 49
Email : parking@strasbourg.aeroport.fr
Download the General Terms of Sale
 Conditions générales d'Utilisation
Information not binding – prices subject to change without notice.