Real estate offers

More than just an airport, Strasbourg Airport consists of a Business Park known as the SKYPARC.
The SKYPARC is now a powerful means of development for businesses which have set up there and which can take full advantage of the opportunities offered by the platform. With over 70 businesses, the park employs 700 personnel.
This business zone is in an ideal location with excellent access by road and a TER rail network connection.
Located to the south-west of Strasbourg, the SKYPARC is ideally positioned in a rapidly-expanding zone. The expansion of the Holtzheim and Entzheim business zones places it at the heart of a very attractive centre of economic development.
The site is still mainly biased towards aeronautics and transport, whilst remaining open to other business activities.
Those already established at the SKYPARC include: WFS, DHL, Heppner, Geodis, Bolloré, DSV, and Fedex, France Handling, Aircargo Logistics, Fracht, France Cargo Handling, Sifa Transit, Transport Fleck but also Customs and Excise, the Departmental Public Security Service Directorate, Freshmile, Sifa Transit, Namixis Ssicoor, Mora Associates, IRT Solution Textile, OMS Synergie, Optimis'action, Brand, CTP, XPO Logistics, Bolloré Solutions Logistics,… etc
Are you interested in relocating to the SKYPARC? You are sure to find premises, which will meet your requirements!
Adeline MOREAU
03 88 64 69 71
immobilier@strasbourg.aeroport.fr
Units at the skyparc
New offices building
Building of 2 floors of 1200sqm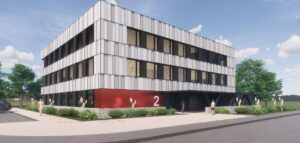 Availability:
Ground floor Lot A: 203 sqm
Ground floor Lot B: 223 sqm
 More information
Freight terminal (8000 sqm)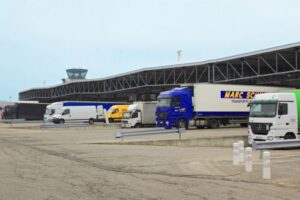 This building consists of several warehouses between 850 m² and 1400 m² heated and a few storage boxes.
Characteristics :
– 17 levelling docks
– Wide loading ramps
– Skydome lighting and industrial luminaires
– Concrete floor
– Useful height: 5 m
– 4 m high sectional doors and high-speed doors
– Offices in some warehouses
– Fire safety: RIA, smoke detectors
– Shared sanitary facilities and shower
– HGV parking for waiting
– Dedicated staff car park
– Dedicated parking for visitors
Office building
The Skyparc has several office buildings of 2 or 3 levels composed of different surfaces and common sanitary facilities.
Louis Blériot Building

R+1 building composed of 2 wings
Surface area divisible from 11m² depending on the configuration
Collective charges: heating, electricity, water, cleaning of common areas and maintenance of the surroundings
Parking not included
St Exupéry Building 

Building in R+2 composed of 2 wings
Surface area divisible from 15 m² depending on the configuration
A wing adapted for people with reduced mobility: access ramp and lift
Coffee machine area and vending machine for drinks and sweets
Parking not included
Warehouses and miscellaneous units
Several buildings offer storage or activity areas.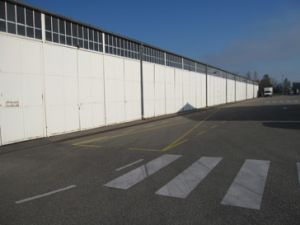 Airport terminal units
The airport terminal can offer various types of premises: offices, cloakrooms, desks, back offices, retail outlets, etc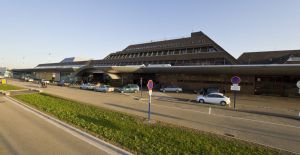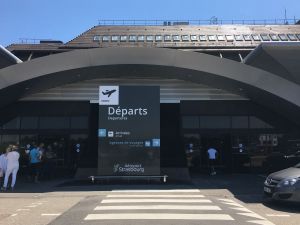 Secondary accomodation
Reserved for personnel working on the airport platform.
Unfurnished rooms between 16 and 22 m² close to the terminal.
Rent from €194/month to €320/month, including heating, water and electricity.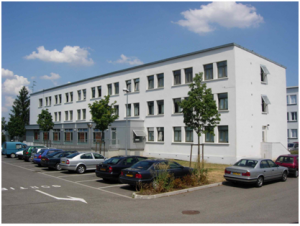 PDF GENERALE CONDITION OF CONTRACT FOR THE TEMPORARY OCCUPATION AND USE OF THE PUBLIC AREA AT THE AERODROME OF STRASBOURG – ENTZHEIM